Winner of the Suspense/Mystery Category at the Christian Writers of the West!
Living on her own for her first time, Bible school student Jane cleans houses to make ends meet. But being independent brings big trials, like falling for a handsome professor, dealing with an obnoxious roommate, and then there's the dead bodies…
Who knew being housekeeper to wealthy owners of a Roly Burger franchise would mean sweeping up clues to their death, while ministering to the needs of their heirs?
This is one big mess that Jane is intent on cleaning up before things get even worse.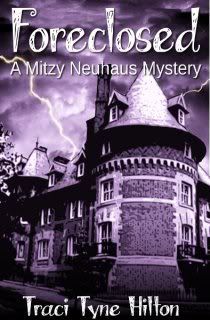 Mitzy Neuhaus is the top selling Realtor in Portland, but even her office is dead in this economy. Foreclosed is the word no homeowner wants to hear and Mitzy is determined to save the incredible mansion on her street from that fate. But with the homeowner desperate to keep Mitzy away from his property and Alonzo, the dangerously hot rival investor trying to snatch it out from under her, Mitzy knows she has to work fast, or the economy won't be the only thing dead…
Foreclosed is free for all ereading devices and apps!
Mitzy Neuhaus is dying to get back to business as usual, but The Worst Economy Since The Great Depression has just about killed her real estate business. But when the excessive interest of the FBI, city planners, and possibly the Mafia, threaten to derail Mitzy's plans things really get dangerous…
Eminent Domain at Barnes and Noble
Mitzy Neuhaus had an easier time selling her condo before the mystery buyer "bought it" on her patio. Mitzy stumbled over the body and knew she had to get involved in the case–if only because the corpse was a dead ringer for herself.
At first it seemed like a clear case of mistaken identity and Mitzy feared the Mafia wasn't done with her yet. But digging into the life of the dead buyer uncovered a peculiar little dress shop where nothing added up.
Can Mitzy untangle the mystery before she ends up with her own case of buyer's remorse?
Buyer's Remorse at Barnes and Noble
Verity Drummer would rather hide away at the edge of the solar system than face her responsibilities as Queen of that little country back on Earth, but when her rebellious brother and sister disappear her responsibilities catch up with her.
Thousands of lives hang in the balance–including her own–as she digs into the darkest corners in space. Can she find the missing kids before their rebellion sets off a chain of violence no one can stop?